Hawai'i, 1995:
---
"
The Geographical Cure"
---
Objective: Fun in the Sun! I decided, in the Summer of 1995, that what I needed was a vacation that was mellow and relaxing, yet still filled with the opportunity for adventure and challenge. Hawaii seemed to offer it all.
Trip Dates: July 15, 1995 - July 29, 1995
Outfitter: Eye of the Whale (Kapa'au, Hawaii)
Costs:
Land: $ 1,490.00
Air: $ 1,160.00
Land: $ 1,490.00
Air: $ 1,160.00
Itinerary: From Honolulu, flew to Kauai for three days, to Maui for three days, and to Big Island for six days, all as part of the "Hawaiian Hiking Odyssey" packaged tour. I then spent two more days on Big Island, striking out -or rather, up - on my own.
Fellow Travelers:
Mark Goodoni (Eye of the Whale; trip leader)
Marcel Suri (Switzerland)
Marie and Marc DeGraef (Philadelphia)
Bob and Margie
Bob and Nancy and their kids, George and Eric
---
---
Day by Day:
Day 1: Saturday, July 15, 1995.


I fly from Boston to Los Angeles, then on to Honolulu on the island of Oahu. Since this trip is to be a wilderness experience (insofar as that is possible on Hawaii), I had resolved to spend as little time as necessary on the overdeveloped tourist island of Oahu. Accordingly, I catch the next inter-island flight out to Lihue Airport, on the "Garden Island" of Kauai. I had previously made reservations at the Kauai Beachboy Hotel, just outside of town, but other than some brief wading into the surf, I am too tired and jet-lagged to undertake much exploration. A word of caution, however: when you see signs in Hawaii warning you of treacherous surf, pay attention! The rocks at the water's edge can be very slippery, and the undertow can be treacherous. I speak from experience!

It will enrich your journey if you understand a little of the underlying (sic!) geology of Hawaii. The Hawaii island chain is floating on the Pacific Plate, and that plate is ever-so-slowly drifting towards the northwest. There also happens to be a "hot spot" of magma oozing out of Earth's mantle underneath these islands. Every so often (like, now), the magma reaches the Earth's surface and creates a mountain of lava. If the mountain rises above the surface of the ocean, an island is formed. The plate the island is on continues it's inexorable drift to the northwest. When the magma reaches the surface again, another island is formed. This is how Hawaii was created, and why Kauai is known to be the oldest of the islands. You would think that Big Island, the furthest to the southeast, is the newest island. That's almost the case, but, actually, an even newer island, Loihi, has started to form on the sea bed to the southeast of Big Island; there will no doubt be a real estate boom when it breaks the surface in ten millenia or so.

Day 2: Sunday, July 16, 1995.


Around noontime, I head back to the airport in order to meet the rest of the tour group. Once all are found to be present and accounted for, we get into Mark's van. Mark and his wife Beth live over on Big Island, and operate the Eye of the Whale, a wilderness adventure outfit. They have both lived in Hawaii for years, but I am delighted to discover that Mark had spent a great deal of time in eastern Massachusetts.

We have a lunch and brief orientation session on a Kauai beach, then make our way to our lodging at the home of Mark's friend Gordon. In the back of Gordon's yard is a long trail that carries us over meadows and through a lush forest to the summit of Sleeping Giant - which does indeed resemble a reclining stone figure. According to my guide book,

Legend says a friendly giant fell asleep on the hillside after eating too much poi (a gooey paste made from taro roots) at a luau. When his menehune (little people, a type of elf) friends needed his help they tried to awaken him by throwing stones at him, but the stones bounced from his belly into his open mouth. As the giant swallowed the stones, he died and turned to rock.

Whatever. The high point of this ridge, at 378 m (1,241 ft.), offers magnificent vistas of Kauai in all directions.

At sunset, we enjoy a BBQ dinner on a nearby beach.

Day 3: Monday, July 17, 1995.


This morning, we set out hiking on what must surely be one of the most breathtaking treks on Earth: the Na Pali Coast Trail, which runs for miles over the tops of cliffs that plunge 2500 ft. to the ocean. Far below, on a scale so vast that all motion appears frozen, whitecaps are visible.

Day 4: Tuesday, July 18, 1995.

Day 5: Wednesday, July 19, 1995.

Day 6: Thursday, July 20, 1995.

Day 7 Friday, July 21, 1995.

Day 8: Saturday, July 22, 1995.

Day 9: Sunday, July 23, 1995.

Day 10: Monday, July 24, 1995.

Day 11: Tuesday, July 25, 1995.

Day 12: Wednesday, July 26, 1995.

Day 13: Thursday, July 27, 1995.

Day 14: Friday, July 28, 1995.

Day 15: Saturday, July 29, 1995.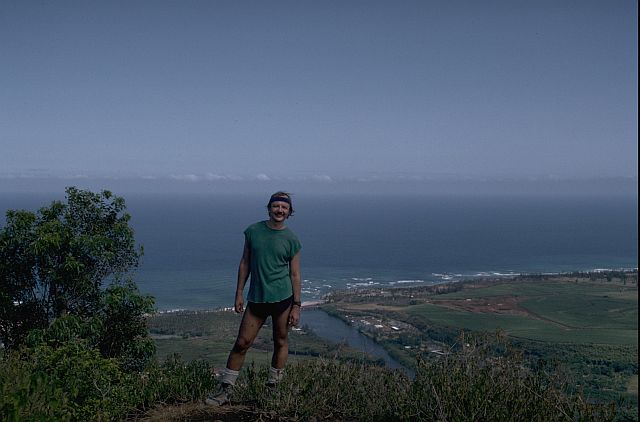 ---